update 29 April 2021
Plumbing-Heating Maintenance

Leaking Heater Shutoff

Harbour Vista Condo's use a Hydronic heating system-where heat is provided with a forced air system using heat circulated from the common water heater systems. Using this method provides heating to a unit which is paid by the HOA assessments and is free to the owners. But from time to time the coils in the heating system in the unit may start to leak.

Water Damage

Calling a plumber may take time for them to show up and turn the water off plus an expense of an emergency call. In the meantime this may cause water damage and maybe even to your neighbor's unit below you if you are on an upper floor and the leak is severe enough.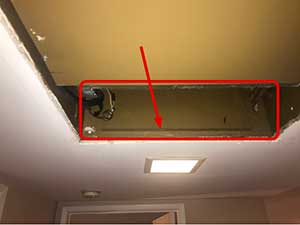 Turning It Off Yourself

Fortunately, the heating system has two water shutoff valves. You could turn it off yourself, if you know where they are located and how to turn them off.
First turn the heater off at the wall thermostat. Then remove the heater grill panel in the ceiling located where the leak is occurring. In a one bedroom this is located in the ceiling just as you enter the single bedroom. In the two and three bedrooms it is the ceiling above the hallway. This will expose a a split rectangular box enclosure with a gap empty by the coil with the fan enclosure next to it.

On the split side opposite the coil, there may or may not be a metal plate (previous owner may have remove this plate or their plumber forgot to put it back). This plate is about 8 inches tall with a "l" shape at the bottom to pull it down. Pull this plate down. It may take some effort but is does come off.

Behind this plate are two shutoff valves. One is an intake and other is the outtake. Turn both of them off. The order it not important. This should stop the leak.
Repair

The coil is held in by a couple of screws. It is usually solder in with copper pipes to the shutoff vales. It will need to be unsolder to remove. Once the coil is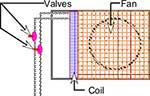 removed, you might consider taking it to a radiator service. They can fix leaks and do a pressure test for around $100 (See Editor Notes). If you reinstall it, you might consider not re-soldering it but use a disconnect valve system with flexible piping similar to which is used under your sink for the next time it might leak.

Replace with Ball Valves

When these heater were installed, the contractor did not install ball turnoffs valves, but instead used regular shutoff valves. These old valves have a tendency to wear out and will no longer turn the water off. If you wish to replace these valves, you will need to schedule a "water turn-off" with the HOA as these valves connect directly to the common system. ■
---
Editor Notes:
The only way to stop the water leaking from the heater when the valves do not work or in any emergency issue, is to turn the water off at the boilers (for Blackbeard, Cabana and Lago buildings this will affect 40 units in two buildings). For Grunion only 30 if turned off at the boiler. But the bottom floor Grunion units have three shutoff valves on their balcony. Tuning off all three valves will stop the water in the bottom floor unit and all the units above them.
A radiator shop such as Frank's Radiator Shop (714) 842-6101) can repairs leaks in the coil and perform a pressure test.
Local companies who specialized in remanufacturing coils such as American Coil (888) 947-2427 can built a whole new coil. The original manufacture is no longer in business. See Hydronic Heater Suggestions.
Safety Issues
posted 19 January 2019
FYI (Safety)

The Importance of Homeowner's and Renter's insurance


Although the Harbour Vista HOA does carry a master policy that is paid by your association dues, this only covers the "common area" such as the structure of the building, the inside of a wall, such as the pipes and the drywall itself.

HOA Master Policy

It is vital for each homeowner and renter to have homeowner's and/or renter's insurance. This HOA master policy does not cover individual units and it's the homeowner's responsibility to have their separate homeowner's insurance. Renters should also carry renter's insurance to cover their possession and emergency housing.

Emergencies

In the event of a fire, pipe leak, flood, or other emergency, the HOA is only responsible for repairing "the common" area. If a pipe bursts inside your unit and then floods your neighbors below, you will be responsible for the repair, which is why homeowner's insurance is so important.

Carpet/Flooring

Carpet/flooring/ cabinetry, countertops, paint, and valuables inside your unit will be covered by individual homeowner's insurance. If you choose to have earthquake insurance on your unit, normally that is an additional cost, that would cover your emergency housing and the repair of 80-90% of the interior of your unit.

No Predictions

No one can predict when an emergency is going to take place, but knowing that your condo is "insured" will give you piece of mind.■

THE HOA DOES NOT
HAVE EARTHQUAKE COVERAGE.
posted 19 January 2019
FYI (Safety)

EVACUATION "GO BAG"


Here's how to prepare an evacuation "go bag" that you can quickly grab in case you ever need to evacuate. Place in an easily accessible area near an exit along with a pair of shoes.

Choose a Bag

Choose a bag. Each member of the family should have his or her own. Start with a backpack or a nylon camper's laundry bag with a drawstring.

Take Photographs

Take photos of all the rooms in your home, along with all your valuables. Store these photos on a cloud server, and back them up on a flash drive (which you should keep in your go bag.)

Scan Documents

Scan all your important documents, and save them on a flash drive. You could also save them onto a cloud server if you have an encryption service you trust.
Driver's license
The deed to your house or equivalent proof - such as tax bill
Your will and/or trust
Proof of insurance - house, car and health
Medical records or web accessible medical records
Passports
Social security cards
Birth certificates
A list of personal contacts with their addresses and phone numbers
Your kids' immunization records
Your pet's paperwork for vaccinations and medical history and make sure your pets are microchipped (check for accuracy after a move)
Essential Supplies

Add essential supplies to help you get by for a few days. This includes water (one gallon per person per day), non-perishable food, a first-aid kit, a flashlight, batteries, clothes, diapers and pet supplies. Ready.gov has a full emergency kit checklist that you can download.■