posted 3 July 2015

Attention ALL Residents!

GARAGE SALE

WHEN: July 18th Saturday

TIME: 8:00am Through 1:00pm

The gates will be opened during this time for easy access to the garage areas.

Volunteers will post signs to publicize the sales. A Web announcesment will also be posted on Craig's List

Everyone is welcome to participate.

We expect a good turnout.

So come and join us!!!

posted 12 June 2015

June Maintenance Happenings

ABANDOM BALCONY DESIGN IS SAFE


A homeowner passed on to Harbour Vista News, that someone had reported to the City of Huntington Beach that the HOA redesigned balcony wasnot structurally safe. The cross beam wobbles in the new replacement. But City Inspector concluded that because the new design still uses the same structural support from the previous design, it was safe and could not be "Red Tagged".

History

This new design was approved by the Board as a cost cuting project. Four balconies were rebuilt with this new design starting in September 2014. See Balcony Resdesign. After several property owners complaint that this design was wobbely, the Board returned to the original balcony design. See March HOA Meeting Highlights.


Architectural

Four units had balcony repairs with this new design. This new design does not match the outsides of the buildings for 176 units. Three of these homeowners have two balconies (3 bedrooms) for their unit which are now mismatched.

Only if Unsafe

At the May 2015 HOA Meeting, the Board stated that they would only authorized balcony repair if there was a safety issue. ■

posted 31 May 2015

Dining Around Harbour Vista

LUNCH AND DINNER
by Mary Williams

La Choza Mexican Restaurant is your traditional Mexican food menu, tacos, enchiladas, burritos, carne asada, chile verde etc., They do have a few seafood plates and several beef plates. Prices are reasonable and food is good. Was listed as one of the top 75 restaurants in OC by the OC Register.


Sauce Excellent

Started out with the Guacamole which was good but mild and we felt it needed a bit of punch to it.

I had the Chile Verde and was very happy with it. Pork was very tender and the Verde sauce was excellent. Came with the standard rice and refried beans. Also came with either soup or salad. I ordered the salad which never showed up. The plates of food came out so fast that I forgot about the salad until I got home.


Both Very Good

A Pork and Avocado Wet Burrito was ordered and a Beef Enchilada plate also. Both were very good. Neither of these dishes came with soup or salad.


Fresh Hand Made Tortillas

The real draw here is that they make their own corn tortillas. Two women stand in the front of the restaurant patting out the mixture by hand and then cooking them to order, They are the size of a small tortilla but a bit thicker. Good flavor and a nice touch to the meal. You can have as many as you want. Just ask for more.


A Bit Much

They do push the drinks on you which I found to be a bit much but I did have a Margarita and it was good. I had called about corkage and was told $19 per bottle. Way out of reason for this restaurant. Their wine list consists of varietal's only, no labels, that to me is always scary. All wine was $6.50 per glass. Stick with the mixed drinks.

Will Return

They were crowded on a week night so I would imagine weekends are busy. I felt the food was good enough for me to go back. Lots of parking. Close to Bella Terra.■


---

La Choza
7402 Edinger Ave
Huntington Beach, 92647
(714) 842-7888
http://LaChozaHB.com


CANDIDATES CORNER

posted 1 July 2015
Election Status

ELECTION MEETING RESCHEDULED


At the June 29th Annual Meeting (Election), Quorum was not met. To date with several hand delivered ballots at that meeting, only 71 ballots had been received counting the proxy ballots. For Quorum, 91 ballots were required at this meeting. The Annual Meeting (Elections) has now been rescheduled to Monday July 27th at 6:30pm. At that point quorum requirements will drop to 46 ballots.

Four Formal Declarations

Four members of the Association formally declared themselves as WRITE-IN Candidates at this meeting to Majority Rule Ballot Inspector who was present:

Ted LaMantia
Cynthia Lee
Michael Mengel
Mary Williams

ByLaws Requirement

Our ByLaws state that if Quorum is not met, the Board must reschedule a continuation of the Annual Meeting no earlier than 5 days or no later then 30 days from the scheduled annual meeting (Section 3.06 Adjourned Meetings). With no explanation provided, the Board rescheduled the Annual Meeting (Elections) for Monday July 27th (28 days later) at 6:30pm. During this period, ballots can still be received, either mailed to Majority Rule or hand delivered at the meeting on July 27th. Members who have already cast their ballots can not re-cast them. They are irrevocable at this point.■

posted 28 April 2015
For Your Information CC&R's for our HOA call for an Architectural Committee to consist of at least 3 members. The Board has the power to appoint and remove homeowner/volunteers to the committee.

At the August 25, 2014 Board meeting the board appointed board member Ron Wolewicz to chair the committee.

Then at the January 26, 2015 Board meeting the Board appointed three of the board members to serve as the Architectural Committee members. The members of the committee are: Gayle Poynter, Ron Wolewicz and Adele Shiffman. The Board also reviewed and re-adopted the Charter for the Committee.

The Board did not ask for homeowner/volunteers to serve on the committee. Many HOA's have volunteers serving on their architectural committee. Having more homeowners participating in the HOA is desirable and healthy for the HOA. Our Board decided instead to serve in both capacities.■

---

Note: The Harbour Vista News web site has copies of the CC&R's (Unit), CC&R's (Committee), CC&R's (Installation), Rules & Regulations, Comittee Charter and the Application for Architectural Review for your convenience. If you are considering remodeling/renovating your condo you should be familiar with these requirements.

(click name to read profile statement)

Harbour Vista ARCHIVES

HOA Meetings
Previous Maintenance Happenings
Harbour Lights
Candidates Corner

posted 4 July 2015 (photo ops)

Happy
4th of
July

!!
Upcoming HOA Meeting Schedules
(subject to change without notice)

Date
Location
Time
Agenda
27 June 2015
Cabana Clubhouse
6:30pm


BOARD OF DIRECTORS ANNUAL MEETING
(ELECTIONS)
MEETING NOTICE & AGENDA
July 27, 2015

(

Rescheduled due to lack of Quorum

)

Pools Open at 7:20
CALL TO ORDER at 7:30pm
THE PURPOSE OF THE MEETING IS:

To elect new Directors: Five (5) Directors will elected for a term of one (1) year;
To determine the allocation of any excess operating funds at the end of the current fiscal year.

If quorum is achieved and Directors are elected, there will be a public Organizational Meeting of the Board immediately following the Annual Meeting to appoint officers,

CANDIDATES
Only one (1) candidate is on the official ballot. A t the Annual Meeting, additional nomination will be taken from the FLOOR for candidates to serve on the Board. Each nominee will be given a chance to present a breif speech on her/his qualifications.
HOA BALLOTS:
BALLOTS may be sent or hand delivered to the Inspector(s) of Elections, Majority Rules, LLC at 18032-C Lemon Drive, Yorba Linda, California 92886. All BALLOTS must be received by Friday, June 26, 2015, otherwise BALLOTS may be hand delivered to the meeting, or any adjournment thereof, prior to close of the balloting.
24 August 2015
Cabana Clubhouse
7:30PM

BOARD OF DIRECTORS EXECUTIVE SESSION
MEETING NOTICE & AGENDA
(CLOSED TO MEMBERS)
August 24, 2015 at 6:30 PM

BOARD OF DIRECTORS OPEN SESSION
MEETING NOTICE & AGENDA
August 24, 2015

| | |
| --- | --- |
| Note: | These Agendas are now Posted at the Action Vivo Web Site four days prior to the meetings. They can be found as a PDF under "Documents". A property owner user id and password is required to access this site. |
Real Estate Summary
(as of 1 July 2015)




Active Real Estate Listing

| | | |
| --- | --- | --- |
| Address | Type | Asking |
| 4852 Cabana Drive #105 | 2BD/2BA | $289,900 |
Contingent/Backup Offers

| | | |
| --- | --- | --- |
| Address | Type | Asking |
| 4791 Lago Drive #104 | 1BD/1BA | $239,900 |
| 4791 Lago Drive #103 | 3BD/2BA | $329,000 |
Pending Sales

| | | |
| --- | --- | --- |
| Address | Type | Asking |
| 4861 Lago Drive #203 | 3BD/2BA | $220,500 (On-line Auction-Hubzu) |
Closed Sales (2015)

| | | |
| --- | --- | --- |
| Address | Type | Closed |
| 16521 Grunion Lane #207 | 3BD/2BA | $340,000 |
| 4831 Lago Drive #104 | 2BD/2BA | $205,000 |
| 4831 Lago Drive #103 | 2BD/2BA | $265,000 |
| 4852 Cabana Drive #106 | 2BD/2BA | $282,000 |
| 16512 Blackbeard Lane #202 | 3BD/2BA | $240,000 |
For Lease/Rent
Address
Type
Description
Monthly
Contact

none
CANDIDATES CORNER

posted 10 June 2015
HURRAY, HURRAY

WE HAVE CANDIDATES!!


As of this date, four HOA members have stepped up to run as "Write-In" candidates in the upcoming June 29th Election for Board of Directors.

In alphabetical order they are:
Ted LaMantia
Cynthia Lee
Michael Mengel
Mary Williams

Short Candidate's Statement
Each of these candidates submitted a short statement for publication in the Harbour Vista News printed version and on the Harbour Vista News web site. Harbour Vista News is pleased to publish these bios for your consideration.■
YOUR VOTE COUNTS!!
TAKE TIME TO SEND IN YOUR BALLOT!
---
Ted LaMantia

"I am seeking a position as member of the Harbour Vista HOA board as a concerned and conscientious homeowner.  My wife and I have been homeowners at Harbour Vista since 2011, and I have been an active HOA Resident Volunteer since 2012 providing help with numerous community projects. I have a strong background in Marketing Communications, Public Relations, and Business Development. Thank you for your support."
Cynthia Lee

"My name is Cynthia Lee and I have resided at the Harbour Vista for 10 years. I have served on the HOA Board of Directors from 2006-2012 as a Secretary, where my duties included preparing meeting minutes and taking notes. I possess an Associate of Arts Degree in Liberal Studies and I'm employed as an Operational Support Technician. I feel our community needs to return to our governing documents in order to keep a smooth running HOA that's environmentally friendly and compliant. I will be a loyal and approachable Board member who will proudly represent all residents. I will attend all Board meetings and ensure all residents' concerns are addressed. I believe I will act in good faith to make sure the decisions I make are in the best interest of the Association. It is my desire to work with fellow residents in a positive manner so that we all live in a pleasant and safe environment."
Michael Mengel

"My name is Mike Mengel and I have resided in Harbour Vista since 1993.  I have served multiple turns on the HOA Board of Directors; as secretary, member-at-large, and three terms as president.  When I first got on the board, the Harbour Vista reserves were at about $14,000 and the association was barely able to keep the lights on.  Our board at the time worked to get the association back on sound financial footing and got caught up on many years of neglected maintenance.  We also managed to survive the real estate recession of the mid 1990's and again in the mid 2000's when many homeowners were walking away from their units.  We accomplished this by working with homeowners, a pro-active management company and a positive attitude."
Mary Williams

"My name is Mary Williams. I have been a resident for 12 years. I served on the board  in 2005 to 2012 during which time the board worked to keep Harbour Vista HOA from going into bankruptcy due to the nationwide economic downturn and the large number of vacancies in the complex. I am employed by a specialty contractor in the private sector. I am on the Board of Directors and responsible for all the accounting, payroll, taxes etc., including a portion of the purchasing and handling all the contracts issued and received. The board needs to be responsible to everyone and make decisions based on what is best for the entire community. We all have a financial interest in keeping Harbour Vista a well run association and any decision that I would make as board member would be based on that ideal."

posted 31 May 2015
Water Shut Off Notices Revised
More Maintenance Deferred

There were 12 residents/homeowners the four board members and community manager Peggy Shaw in attendance.

Announcements

The board announced they would no longer be posting the non-emergency water shutoff notices on the 1st Monday of each month on individual buildings affected. Only one notice will be posted at the mailboxes informing residents of the building(s) affected by the water shutoff. Gayle Poynter stated the reason for discontinuing the service was because it was time consuming for the board and cost money to print the notices.

It was clarified that non-emergency water shut offs would only occur between 10 AM and 4 PM.


Open Forum

Michael Barto (editor of the Harbour Vista News) gave a short discussion on the proposed change to the Internal Dispute Resolution (IDR) policy and procedure proposed by the board (see link). His point was to encourage the Board to include language that would encourage the Board to work with homeowners instead of battling them. Even though a notice with the proposed change letting homeowners know the Board would adopt the new language at this meeting, it seems the item was not on the Agenda and so it will not be adopted until next month's meeting.

Parking violations of large trucks parked inside the complex was discussed. The Board is not issuing parking citations at this time while they review the parking policy.


HOA Board Sues Homeowner

A new homeowner announced that the Board/HOA had initiated Court action to stop them from renovating their newly purchased condo. The couple expressed that this HOA Board was not acting in "good faith" and was not working with them to resolve their issues. They stated they have the proper permits, inspection reports from the City of Huntington Beach, architectural plans and structural engineering survey for the renovation. They said the Board has not clearly identified the concerns they have and were requesting an unreasonable solution to the concerns they have. The Board responded to the couple telling them they had turned the issue over to the HOA legal counsel and it was out of their hands.


More Deferred Maintenance

Several maintenance items were discussed. Balcony repairs, stream maintenance and boiler repairs were discussed. Most of these were deferred and the board asked for additional proposals/bids or more information. The Board approved servicing of the fire extinguishers, repair of a fountain and Reserve Study computer updates.

Safety issue

The Board will only approve balcony repairs if it is a safety hazard. (They did not state how it would be determined if there was a safety hazard).

Board approved one lien on an account.■
---
Note: The Board did not mention that three of them (Gayle Poynter, Ron Rolewicz and Adele Shifman) did not submit their names for the ballot for the upcoming Board election. Only one member, Mike Puduzzi, submitted his candidate's statement and is on the ballot.
posted 30 June 2015
WATER SHUTOFF NOTICE
Monday July 6, 2015

A non emergency Water Shutoff has been scheduled for Monday July 1st for:
4852 Cabana Drive
16521 Grunion Lane
16551 Grunion Lane
4791 Lago Drive
4831 Lago Drive
4861 Lago Drive
Residents who unit is in these buildings will be without water from 10AM to 4pm. Both hot and cold water. Contact Action Property Management if you have any issues or concerns (Tel: 800-400-2284).
posted 31 May 2015
will NO longer post notices at the affected buildings and will only post notification at the Mailboxes.The reason for this changes maybe that the Board feels it is an imposition on their important duties to continue to provide this service. For this change there was no public discussion at the HOA meeting. Make sure you watch the mailboxes.■
posted 29 May 2015
From Heartbroken Owner (Second Letter),
Our battle with the HOA Board continues and in the interest of transparency we wanted to let other homeowners know what is happening.

Preliminary Injunction

The Board had the HOA attorney file for a "Preliminary Injunction" against us in the Orange County Superior Court on May 5th. The judge denied the Injunction stating he did not find that it met the requirements for a Preliminary Injunction. The court ordered both our HOA Board and us to appear in court on June 4th when the judge will resolve the issue unless the HOA Board and we work out an agreement which is "fair, reasonable and expeditious".


Very Scary

The Board wants an Injunction to order us to immediately stop all construction of renovations on our condo. And further to return the condo to its original condition (??) within 30 days and we would be financially responsible for any damage to the common areas. Lastly, if we do not stop all construction on renovations to our condo the Board could gain access to our condo by having a locksmith change the locks on our condo with the assistance of the HB Police Department. Then the Board can have our condo returned to its original condition and the cost would be assessed to us along with all the attorney fees and court cost and any other associated costs. Scary!!


For Our Family

My husband, me and our two children still hope that we can continue to make our condo modern and updated and move in to our new home in Harbour Vista. We have tried to get our condo renovated so we can live in it since last November. We have paid our monthly HOA dues, land lease fees, property taxes and have not been able to live in our condo to this date.

We hope the Judge will help us reach a "fair and reasonable" agreement with the Board so we can go forward with our plans without incurring any further expensive attorney fees and court costs for the HOA or us.


---
To Heartbroken Homeowner:

It is troubling to learn that our HOA Board has proceeded ahead with attempting to file an Injunction against a fellow homeowner. I hope that the judge will find a fair and reasonable solution when you go to court on June 4th.

I am concerned for both you and the HOA. There are already significant attorney and court costs that either the HOA or you will have to pay. Not to mention the financial costs you have spent to purchase your condo and to do the renovations you hope to do.

I hope cool heads will prevail by all involved and a reasonable, fair and equable solution will be reached and soon!


-----Michael Barto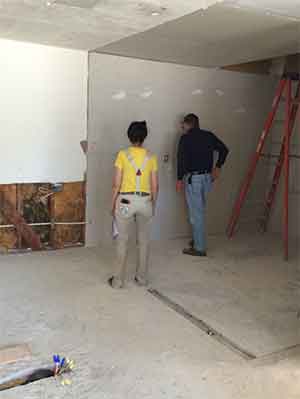 HB City Inspector checks work done on "Heartbroken" homeowner's condo.
---
To Ask a Question of Harbour Vista News:

Simply email, call (714-883-1949) or send a letter. Remember: "We are all in this together™".